AVERY BERKEL SCALES
---
Avery Berkel are a worldwide market leader in electronic scales technology. Their scales are fast, accurate, powerful and smart. They have worked within the industry since 1875 and their scales are made in the UK.
Techcube supply, install, configure and offer training, maintenance and support for Avery scales in the UK and across the world, including France, Kuwait, Iraq, North America, India, and Sri Lanka. We are an official Avery Berkel UK distributor and as such we offer lower prices to meet your business needs. We are experts in Avery scales and integrations with EPOS systems. We also sell accessories, parts and labels.  Please call us on 020 3282 0453 or contact us here.
Avery Berkel electronic weighing scales are used as part of an EPOS system (Electronic Point of Sale system) so that the sales process is streamlined in your retail store business. They can be used to weigh fruit, vegetables, meat, fish and any other loose product that needs weighing, so are perfect for fishmonger's and butcher's counters. One of the key benefits is that when used as part of an EPOS system, you can manage stock control effectively and your stock data will be accurate. As they are connected to an EPOS system you will know how much stock you have left and can reorder if required and this also helps to eliminate wastage, so that you can move closer to zero waste. Another benefit is that if you have a butchery section for example, away from the main tills, then the printed barcode label attached to the wrapped product will register in the EPOS when scanned at the main till and show the price on the customer display. The EPOS reporting system can also identify popular weighed products, so you can maximise profit.
Key Benefits of Using Avery Scales
Streamline sales process
Manage stock effectively
Maximise profit
Increase efficiency
Save time
Reduce wastage
Improve customer service
Outperform competitors
AVERY BERKEL SCALE PRODUCT RANGE
Avery Berkel FX120 – a very popular model, which is integrated into an EPOS system. It is used near the main till and this can be kept on top of the counter. This scale can send weight to the EPOS system and the user can program the EPOS system with prices per kilo for items and then at checkout the scales send the weight to the EPOS system which then adds the price of weighed item to the bill.
FX120 Avery Berkel scales
Avery Berkel Xs Series – ideal where space is limited or for raised counters. Suitable for both large and small retailers. Up to 10,000 different products can be stored. These are label printing scales and used for fruit and vegetables, fish and meat counters for example. The scales can print a label, which can be stuck on to the product bag, which is then scanned at the checkout, to read the product, price and weight. With the Xs Series, you can update prices and products on many scales from one location.
Avery Berkel IM202 – these are now upgraded to XS200, which we also support.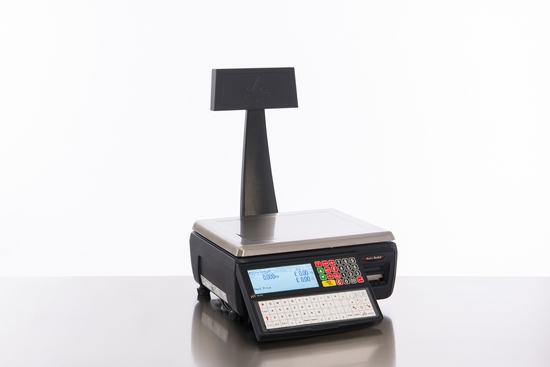 XS200 Avery Berkel scales
Avery Berkel FX131 scanner embedded scale – integrated into the checkout counter surface. It handles two tasks: weigh items and scan labels/barcodes on items. To install this product, a modification is needed on the counter, which Techcube can do.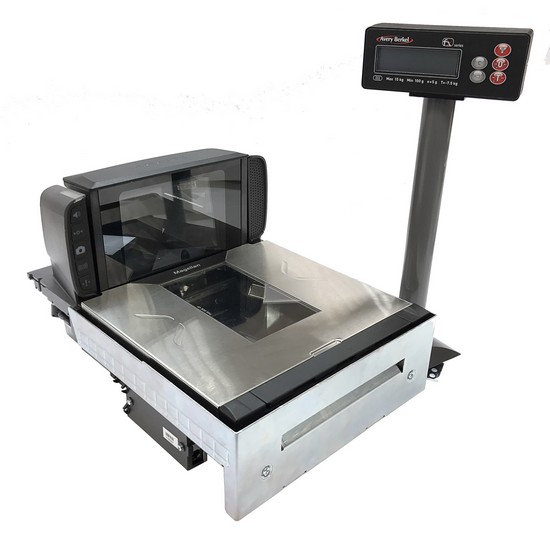 FX131 Avery Berkel scales
Avery Berkel networking scale – this is a label printing scale and using a network port, price changes or new products can be sent to it. You can have a master scale, and all the client (child) scales will receive the changes in price etc.
Avery Berkel XTX100 AND XTX101 touch screen scale – This can be used as a self-service scale for customers – there are pictures of the products on a touch screen that can be selected, then once the item is weighed, a label is printed which can be used at the main checkout. Can also be used at counters for a butchery for example.
PAID SOFTWARE
Avery MXBusiness – Avery scale remote controlling software – Used to operate scales remotely. Products can be added remotely from an office. Troubleshooting can be done remotely if the scale is on a network.
Avery MXBusiness & MX50 – Avery label editing software – Used for label editing. Techcube can configure it and edit product labels, add your logo, ingredients, e.g. type of ham and origin, allergen information, use by date etc. Multiple labels can be created, e.g. one designed for meat and another for fruit etc. and then sent to chosen scales.
Avery MX100 – Avery scale head office software – Used when you have multiple store branches. Each branch can have multiple scales and a central head office location can control the scales, very useful for new pricing and adding new products. Integrated with an EPOS system. Techcube can configure this for you.
Techcube weighed items stock management software – This is Techcube's software and is used to control stock on any weighed products, e.g. beef or lamb. Wastage management is simplified, and the system helps to reduce waste. It also helps to prevent theft of weighed items, which are easily stolen. For example, you know how much lamb you bought and how much you sold, and with this software you can account for any waste, for example when lamb fat is cut away, that can be weighed, labelled and marked as wastage.
REPAIRS, SERVICING, TECHNICAL SUPPORT
Our service is particularly convenient for local customers in Essex and London. Rather than buy new equipment, we can save you money by repairing your existing equipment.
Techcube offer repair, servicing and technical support. We offer custom service plans, based on your business needs. All you need to do is bring the scales to our store in Ilford, Essex and we can advise you and repair faults. We cannot repair scales remotely. Some of the common repairs we deal with are changing printer heads or the gap sensor that detects the labels, as this often fails.
With brand new scales, nothing is set up, so we can program them for you, add products, prices, labelling formats and so on. We can also upgrade to the latest firmware version, so that you have all the latest features.
We also offer training and this takes place in our office and then we come to your store to train your staff to add products, carry out maintenance and troubleshoot and so on.
If you have network scales, we can visit your site and set up the network, run cables, configure and so on.
For more information about our Avery Berkel scales service, please call us on 020 3282 0453 or contact us here.
CLIENTS & ACCREDITATIONS
---