EPOS SYSTEMS
Streamline Your Sales and Maximise Profit with EPOS System Installation
Techcube supply and install EPOS systems (Electronic Point of Sale systems). We provide complete EPOS till packages, hardware and our own software. Since 2007, we have installed EPOS for thousands of businesses in the UK and across the world, including France, Kuwait, Iraq, North America, India, and Sri Lanka for retailers, newsagents, off-licences, dry cleaners, cash and carry, hotels, bars and restaurants.
EPOS enables you to streamline sales, improve inventory management and reordering as well as improve checkout. Our EPOS systems allow you to view profit and loss, and easily discover profitable product lines, reorder automatically from your suppliers or automatically generate purchase orders. We've invested heavily in software development and our software is customisable to suit your requirements.
Why Choose Techcube for Your EPOS System?
1000's of installations across the UK and the world
Experience in EPOS since 2007.
Supply, installation, repairs and upgrade of EPOS systems.
Customisable software with free updates.
UK-based support and maintenance plans for your peace of mind.
Visit our showroom in East London, so you can get a feel for the capabilities of our EPOS systems and see them in action. Alternatively you can connect to our demo system remotely with your computer.
Free EPOS quote – please call us on 020 3282 0453, fill out the quote form or contact us here.
Support and Maintenance
We continually update our software. When an update is available we will call you to advise of the update. For customers with a  maintenance / support plan we will ask you to leave your tills on during the night for the update. We do this manually store by store.
We maintain your hardware for best performance.
We also perform database maintenance. It's important to do this when transactions increase, for maximum efficiency. We index, shrink and archive databases.
EPOS Costs
Costs start from £1100 + VAT.
Installation Costs
Most systems are plug and play and do not require installation by us.
If installation is required there will be a fee if you are distant from our base in Ilford, Essex.
Warranties
1 year manufacturer warranty on hardware, extended warranty for total of 3 years is available.
Features and Benefits of Our EPOS Systems
Adding products
New systems are loaded with 50,000 recent and popular products. For existing systems, you can add products through the front till system, by scanning the product barcode. New items delivered from your supplier come with an invoice which enables you to add all products automatically. Prior to the pallet arrival of new products, you will have a purchase order via the EPOS system and the supplier gives the barcode, if the barcode is already in your system.
Efficient Inventory Stock Management
Our EPOS systems will save you time, as stock levels are automatically calculated, replacing the need for manual stock-taking. When a product item is scanned at checkout, that item is automatically taken from the stock levels, so at any time you can see accurate real-time stock levels by looking at the system. The software will inform you if you are low on stock and need to purchase from your supplier.
Automatic Stock Reordering
The software can be set to automatically reorder from suppliers when you reach a specified stock level. When you set up a minimum stock level, once reached the system raises a purchase order and then you can email this to the supplier. Or purchase orders can be generated for you to take to the supplier.
Price Changes
With some suppliers, new products and price changes can be downloaded automatically into your local system, e.g. Bookers, Nisa, Costcutters.
Checkout
At checkout, each product is scanned with a barcode scanner, if alcohol the system flags to ask the customer for ID. When a product is scanned, the product information is displayed on screen. If the product is on offer then this will be displayed to the cashier and customer. The customer sees the last item scanned and a running total. On modern EPOS systems, the customer can see same information as the cashier. Once all items are scanned then the sub-total is displayed. The customer can then pay by card or cash. For cash, all note denominations are shown as icons on the cashier's touchscreen or they can enter an exact amount with the keypad. Then the system shows the change that the cashier needs to give the customer. A receipt is then printed. The receipt will show items,  cost and VAT breakdown.
Special Offers and Discounts
This EPOS module is called Promotions and there are three types of offer: multibuy, buy one get one free type offers, and price reduction. For example, 3 types of wine, any 3 for £10. You can define in the software when to start and end promotion so you do not have to manually end the offer. Suppliers run offers from time to time and this can be reflected in your business. More promotions equates to higher footfall and profit. E.g. Black Friday deals bring in more footfall. Offers on one product, will bring customers into the store and  they will also buy other items.
Reporting
Comprehensive reporting is available. Here are some of the reports:
Profit and loss can be viewed by time period, department, e.g. alcohol or by individual product.
You can identify profitable lines and products.
Stock reports.
Customer returns, damaged items and expired product reports.
User clock in and clock out.
Voided products and reasons for the void.
Purchase history down to the item level and products can be tracked from purchase from supplier until sold or missing.
Individual invoices.
Hourly sales report – analyse this on a monthly basis to see busy times of day so you can allocate more or fewer staff. In quiet periods you can reduce the number of staff, saving on wages.
Documentation
A purchase order once confirmed becomes a goods received note (GRN). With the GRN you can check the supplier's delivery and cross check all items are correct. You can then convert the GRN into a purchase invoice. When the purchase invoice is finalised, stock will be updated in the EPOS system, as well as updates to the product retail price.
Hardware and Accessories
These are the components that come with the system.
EPOS terminal touchscreen.
Customer display which shows running totals – traditionally, these show sub-total and the last product scanned but new 10 inch screens show a split screen of entire bill and ads or special offers and  promotions.
Barcode scanner, single line or multi-beam omni-directional scanner for easier scanning.
Cash drawer full length (standard) or flip top space saving option which opens upwards and is embedded in the counter.
Thermal receipt printer, no ink required, plus automatic cutter, no tearing of receipt required. Connected by USB.
Your bank will supply card reader. Any card system can work with our EPOS systems.
Mobile devices – retail 5 inch touchscreen PDA (Personal Digital Assistant) with built in barcode scanner, connected to live server, used for stock-taking and to scan items received from supplier. If items are damaged the Wastage screen can be selected and the item scanned. You can also add new products, check prices on the shop floor and also print shelf cost labels.
Avery Scales – There are 3 types of retail scales:
Avery FX120 – directly connected to EPOS, e.g. apples on scale, at checkout. Pre- programmed with price per KG – scanner and scales are separate.
Avery FX131 – barcode scanner and scales integrated together, flat on checkout counter to place item on it to weigh.
Label printing scale – e.g. separate meat counter – print label and then scan label at checkout.
Find out more about Avery Berkel Scales.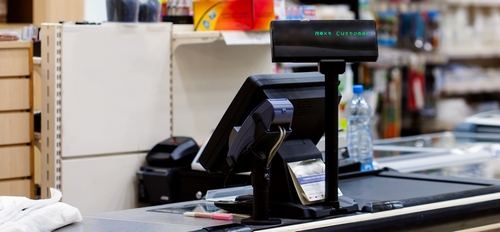 Back Office Software
For managers for laptop or desktop computer, can be used with A4 laser printer and a single line barcode scanner. The manager can access everything. and run reports. Connected to local area network (LAN).
Head Office Software
The EPOS Head Office software is for businesses with multiple branches. Everything can be controlled and monitored for every branch from your head office. For example price changes will be reflected at the end user till.
System Requirements
Windows 7 or later, minimum 2GB RAM, minimum 80GB hard disk space and decent processor.
CCTV Integration
EPOS can be integrated with CCTV installation, so at any time you can view transactions. Each till will have a CCTV camera and all scanned products will be recorded and tracked. On the left side of the CCTV footage there is the image, while on the right is the product name and price. This is for security and prevents theft.
Other Benefits of EPOS Systems
Speed of Transactions and Loyal Customers
A smooth and fast checkout transaction results in a pleasant experience for customers, bringing them back again and again. Accuracy, as discussed below, ensures that you give the correct change and don't inadvertently overcharge customers. Faster transactions equate to fewer people queuing and this helps encourage repeat customers and higher profit.
Transaction Accuracy
With a supermarket for example all the products are added to the system with prices, so when the customer checks out, the products are scanned and there is complete accuracy. With Avery Scales, products like meat are weighed and a label is printed and scanned at checkout. When the customer pays you, there are buttons on the touch screen monitor for note denominations, e.g. £20 that are pressed and then the change to be given is automatically calculated.
Staff Transparency
Electronic point of sale systems allow monitoring of staff and each transaction that they process at the tills. Reports enable visibility of staff sales figures, who sold the most and highlighting staff whose performance needs improvement.
Less Paperwork
Product and sales data is stored on a computer and this means less reliability on manual paperwork to keep track of things, increasing accuracy and reducing impact on the environment.
For more information and advice, please call us on 020 3282 0453 or contact us here.
CLIENTS & ACCREDITATIONS
---